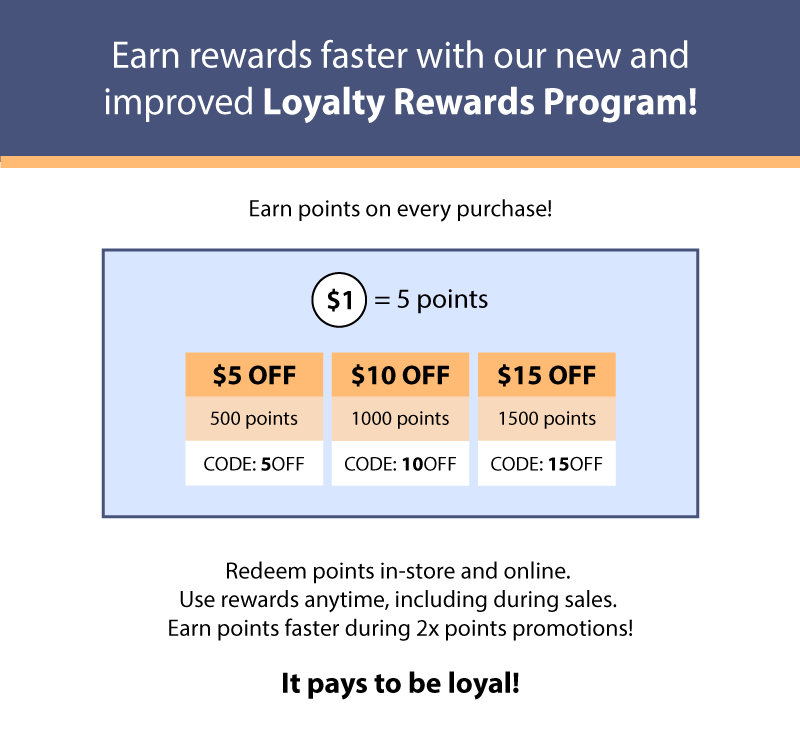 Already a rewards member?
Great! You'll be automatically added to the new loyalty program!
Frequently Asked Questions:
Q: Why has my points total changed with the new program update?
A: Loyalty points were multiplied by 5x to match our new point accrual rate! If you were eligible for a credit under our old reward system we converted 500 points for each credit prior to adjusting your points, so your new points total reflects the following adjustments: (old points total) - (500 for each credit on file) x 5 = (new points total)
Q: I had a credit under your previous rewards system, can I still redeem it?
A: Of course! You may continue to access your credit until it is used or expires by using code 50off at checkout in-store or online. Your new points total already reflects the deduction for this credit as described above.
Q: Can I have multiple credits at once?
A: There is no limit to how many credits you can have on file, but only one may be redeemed per customer per day, so choose your favorite and keep the rest for next time!
Q: Do my credits expire?
A: All loyalty credits expire one year from the date they were earned if they are not used. If your credit expires your loyalty points balance will be reduced by the amount associated with that credit, and any remaining points will stay active.
Q: Why is my coupon code not working online?
A: In order for your credit codes to work online you must be logged in using the same email that your points were stored under. Complete the login or new account portion of checkout first, then check the coupon code to see if it takes effect. Feel free to contact us if you have any issues!
Still have questions about your points? Contact us here.
Updated rewards program begins 3-2-2021. Loyalty credits earned during previous program will be honored one year from validation date with code 50off at checkout. Existing loyalty rewards members will automatically be enrolled in updated loyalty program. Credit is for future purchases and may not be used on date validated. Amounts paid using store credit or gift certificates are not applied to running total. Purchases made prior to enrollment in either loyalty program are not eligible. Credits expire one year from validation date. Credit is not transferable and cannot be redeemed for cash. Limit one reward redemption per customer per day. Loyalty reward cannot be combined with Lifetime Friends & Family discount. We reserve the right to terminate rewards membership, points and/or credits in the event of program abuse and or violation of terms. We reserve the right to update, discontinue, or modify the terms of the loyalty program at any time.